Weekend Big Game Scenario
Road to Baghdad
Was Held: November 27, 28, 29 2009
In spite of record cold temperatures this Thanksgiving event was a success with 92 Players. Most of which were the regulars who never miss a Camp Miles Event. Timelines and maps were supplied to the players, creating an engaging but understandable scenario.
The Red team: Team D'mented showed up full strength with 19 Players and aligned with Team Exile and Team Tammy for their Saturday victory.
The Yellow team: Sabotage, Trespassers and Locked On, were leading the points race until the last half hour of Saturday play.
Both Teams were augmented by smaller teams and individuals.
Teams were issued three tanks. The CMP-II Walking Tanks were a huge improvement over the CMP-1 walking tanks. This new lighter weight model, with the improved gunner line of sight, made this weapon system much more accurate. The vastly improved vision and head protection inspired more players to take the role of gunner, and use the tanks more aggressively. The new steering strap incorporated on the new CMP-II walking tank allowed for one handed maneuverability.
Both Teams advanced their tanks with great determination even after the tank crews were eliminated repeatedly. Additional players quickly moved forward to take the tanks forward yet again. Grenades were plentiful and used with great effect against the tanks. The Tank's size limited their paths of movement and caused them to bottle neck at certain points, giving the grenadiers great opportunities to take out the tanks. Several times more than one tank was eliminated by a single grenade.
Rocket launchers would have been a real game changer, as the added range of the rockets would have been deadly. With the troops being mainly experienced, and knowing the importance of timing, fierce battles occurred at the objectives at the times required. Troop reinsertions every 15 minutes encouraged players to press forward again and again.
Near the end of the day, with the score swinging back and forth, the Yellow team felt safely ahead in the points, and successfully deployed two helicopter re-insertions into the rear of the field, at a cost of one point each. The second landing allowed the yellow team to surround the deeply embedded red team, but even with a last minute suicide charge, yellow could not dislodge red from the Baghdad bunkers. The high point value of the Baghdad bunkers objective gave red a come from behind victory. 41 Storm Trooper pins were awarded.
Sunday, with warmer weather and excellent turnout, Yellow team came back with a vengeance and swept the field, decisively putting the points race out of reach well before the last timed objective.
The entire Yellow team was given the chance to shoot for free tickets for the next event, and 5 were awarded for the upcoming Risk Event.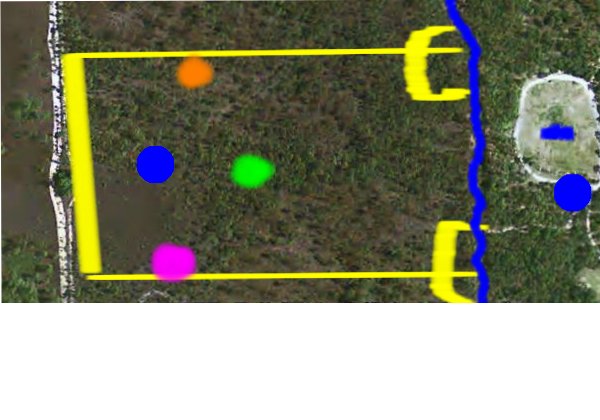 For Prices and more info click Here

Join our email update list, so you will know
about any schedule changes or weather updates
Questions?
Call Keith

239-980-9850

www.CampMilesPaintball.com