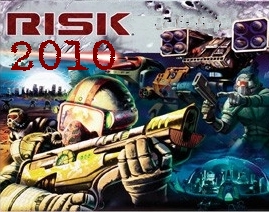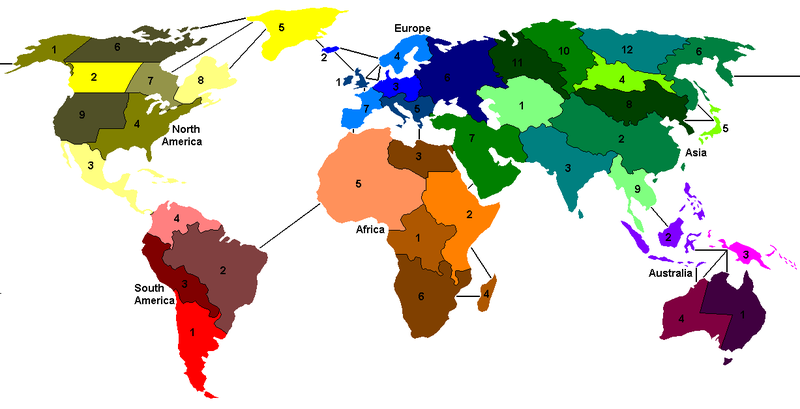 Was Held Jan 1, 2, 3 2009
Risk 2010 featured 6 platoons for the first time and proved to be a strategic smorgasbord. The weekend's unusually cold weather separated the men from the boys, reducing the turnout, but not enough to hamper the scenario.
Diplomacy, bribery and alliances, would again prove crucial in winning the world domination pin in this two day event. Rules containing the map were distributed, but many new players did not utilize them. This allowed the home teams to speed through the objectives.
The new shortened game time of 25 minutes forced the generals to take tactical planning seriously. The revised assimilation policy, which put an element of chance into the equation, surprised all when team sabotage, ( yellow) made a strategic move by cashing some cards early. This forced team Demented (blue) onto the chopping block. Yellow's general Chris Langdon revealed later that this move was meant to demoralize blue's hard chargers. But the unintended consequence was that Blue was absorbed by the Brown (Trespassers). This created an overwhelming force by Saturday Night.
Red Team, led by 1st time General T-Bone, of Port Charlotte ROTC, was absorbed by Sabotage (yellow). This provided Yellow with several young tactically intelligently players, but only one Risk Card.
On Sunday morning, Team Tammy led by 1st Time General "Miles" (white) received desperately needed re-enforcements. This allowed his white team to become a serious threat for the rest of Sunday. Unfortunately, a badly timed alliance with the Trespassers (brown) prevented his team from scoring higher over this two day event.
Sean Carlson, led the Newly formed Anarchy Team (green), in an impressive start on Saturday, only to see their hopes fade, as much of the team was unable to stay for Sunday. This Team played like true Risk professionals, and directed most of their efforts toward defeating the early leaders, Trespassers (brown).
Of note was Mike "wheels" fighting from the saddle of his ATV (allowed due to a back injury.) He distinguished himself throughout the weekend by taking point for the Brown Team. This caused may players to purchase grenades in an effort to counter his motorized advances.
Congratulations to 1st time General of the Trespassers, Christian Soto! His team methodically captured bases, both Saturday and Sunday, even as the remaining teams aligned against them.
Thank you to all who attended! Especially those who camped in the Valley Forge-like conditions!
If you have any photos that you would like to share, send them to bill@campmilespaintball.com
As of now, the majority of the Electric Sites have been reserved for the February 5, 6, 7 Game.
If you want electric call Keith soon: 239-980-9850