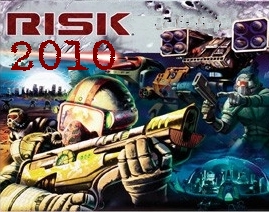 Feb 27, 28, & Mar 1 2009
After Action Report

We had a great
turnout, great weather
and divided into 5
competitive groups.
In each game, the teams had 30 minutes , to capture enemy continents.
To successfully capture a continent a team occupied a base AND had
their color flag up. Continent points same as Risk Board Game. Teams
were awarded one card per flag station turned to their color at end of game.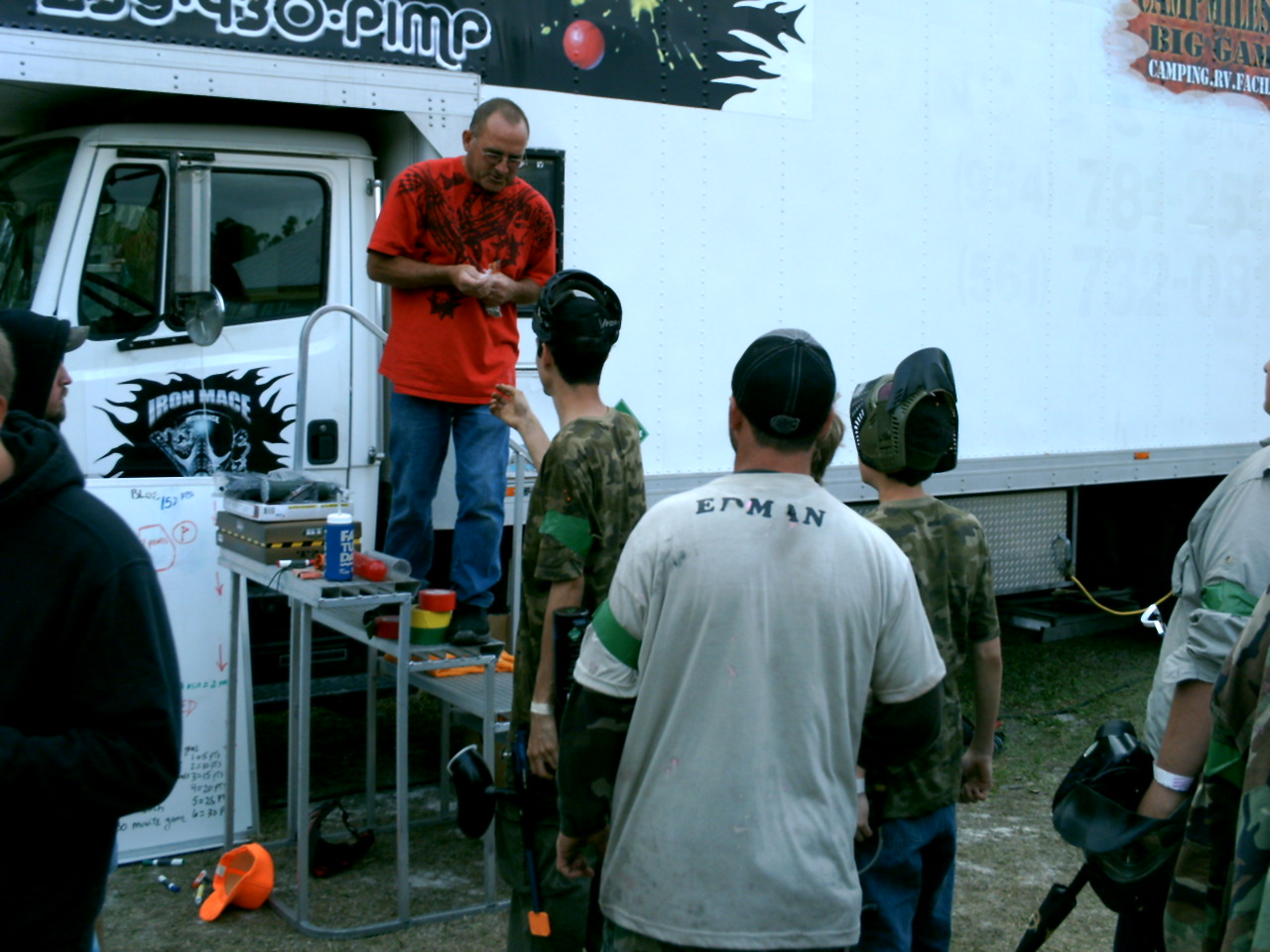 The Teams drew cards to determine
starting positions, and were redrawn a
after every three games.
Starting in the United States,

was Red Team

Starting in South America

was Yellow Team

Starting in Europe

was the Brown Team

Starting in Russia,

Was the Blue Team

Green Team pictured in South America after the first rotating of positions
Saturday
The Risk Scenario allows for Treaties, Alliances, and Non-Aggression Pacts, and the leaders of the teams wasted no time
Alliances were constantly shifting, double crossing and back-stabbing were common.
Game one.
Blue team swept the Northern half of the world, while Green siezed the Speedball court (Africa) and Australia.
Yellow took South America
Game Two
Blue took the United States and Russia, Yellow took Europe Africa and Australia. Green took South America,
Brown and Red teams were both shut out again.
Game Three
Red took the United States and Europe, Brown finally got on the board in Russia, and Yellow swept the
Southern Hemisphere with South America, Africa and Australia.
Game Four
Green manages to negotiate a terrifically lopsided deal, and is basically handed the United States,
South America, Africa and Australia. Yellow gets the remainder, Europe and Russia.
After 4 Games, the scores
Yellow 46
Blue 39
Green 34
Red 10
Brown 0
Game 5
It was elimination time for the unlucky Brown Team. Whichever team could take and hold brown's
start position, would assimilate the brown players into it's ranks. The only way Brown could survive
was to take out all comers. Green was the successful team taking the position and swelling the Green Ranks.
Red held the United States, Yellow took Russia, and Blue took South America, Africa and Australia.
Game 6
Yellow took Russia and Europe, Red took many positions, but ended up holding only the United States
and Australia. The newly enlarged green team took South America and Africa. Blue was shut out.
After Game 6
Yellow 115
Blue 69
Green 101
Red 50
Brown eliminated - 0
Night Game
The night game feature the capture of 7 dragon eggs, Shiny metal globes centered on the field.
The Teams started in their usual positions and became a battle royal in the midfield. Each egg was
worth 7 Points, and each player possessing one at game end would win a dragon patch for his
personal accomplishment. It was moonless night, and no eggs were collected. It was just too
dark in the woods, and the game stalled out after the initial melee which featured a huge number
of "friendly fire" incidents.
Sunday.
Arrived cool and windy, with the threat of rain. A few of the defeated Brown team disappeared
in the dark of night, A fresh contingent of Sunday players were evenly spread among the teams. The teams thus
re-leveled the games began
Game One
10 minutes into the game a cold rain started, and looked ominous. The troops move quickly into
contact trying to eliminate as many enemy as possible. Then just as quickly as it got started,
the rain and wind dropped, and a perfect cool weather paintball day prevailed.
Green swept across the North, taking America Europe Russia and also Australia. Red took
South America,. and Blue was able to hold Africa.
Game Two
Blue took United States, Europe, and South America. Red took the rest of the world, Russia,
Australia and Africa
Game Three
Yellow took United States and Africa, Red held Russia, and Blue showed some life, taking South
Africa, Europe and Australia.
After Sunday Game 3
Yellow 135
Blue 119
Green 125
Red 81
Game Four
Red, trailing the pack, came out fighting and was able to secure Russia, Europe and Australia. Blue,
Green and Yellow were only able to hold a country each.
Game Five
Green takes United States, Europe, and South America. Red again makes up some ground with
Africa and Australia. Yellow took Russia, while Blue was shut out.
After Sunday Game 5
Yellow 147
Blue 122
Green 164
Red 145
Game Six
The game was incredibly close. If any team could take 4 continents, victory was assured.
If a team could take three countries and catch a little luck of the draw, the game would be theirs!
By now the gamesmanship was at supercharged level, as each team tried to construct coalition by
which they might get the better of the bargain. While it was impossible for the this writer to
determine which deals were broken, never existed, or honored. There were many barrel taps right
at the closing bell. Red was able to take Russia, Australia and Europe. Green Secured United States,
South America, and Africa.
Green and Red had fought well, with each taking 3 countries, and earning 3 Risk Cards.
Green would have a total of six Cards, it was a mathematical long shot there would be two
Sets, in six cards. But the Gods of war smiled upon Green, delivering a Joker!
Green was victorious and each player was presented with a World Forces pin.
Final Score
Greeen 229
Red 189
Yellow 177
Blue 122
This comment sent by Blue Commander, Bill Bones:
ABOUT MIDWAY THROUGH THE FIRST DAY THE BLUE TEAM WAS LEADING AND HAD MADE A PACT WITH SOME OTHER TEAMS WHEN SOME MEMBERS OF THE BLUE TEAM TOOK IT ON THEIR OWN TO BREAK THE PACT AND SCORE SOME POINTS. FROM THAT POINT ON THE BLUE TEAM HAD NO FRIENDS FOR THE REMAINDER OF THE GAME. IT WAS ALL DOWN HILL FROM THERE AS THE BLUE TEAM MADE A STEADY DECLINE FROM FIRST TO LAST.
If you would like to comment for the After Action Report Click Here

Gilda won the drawing for the TM7 Marker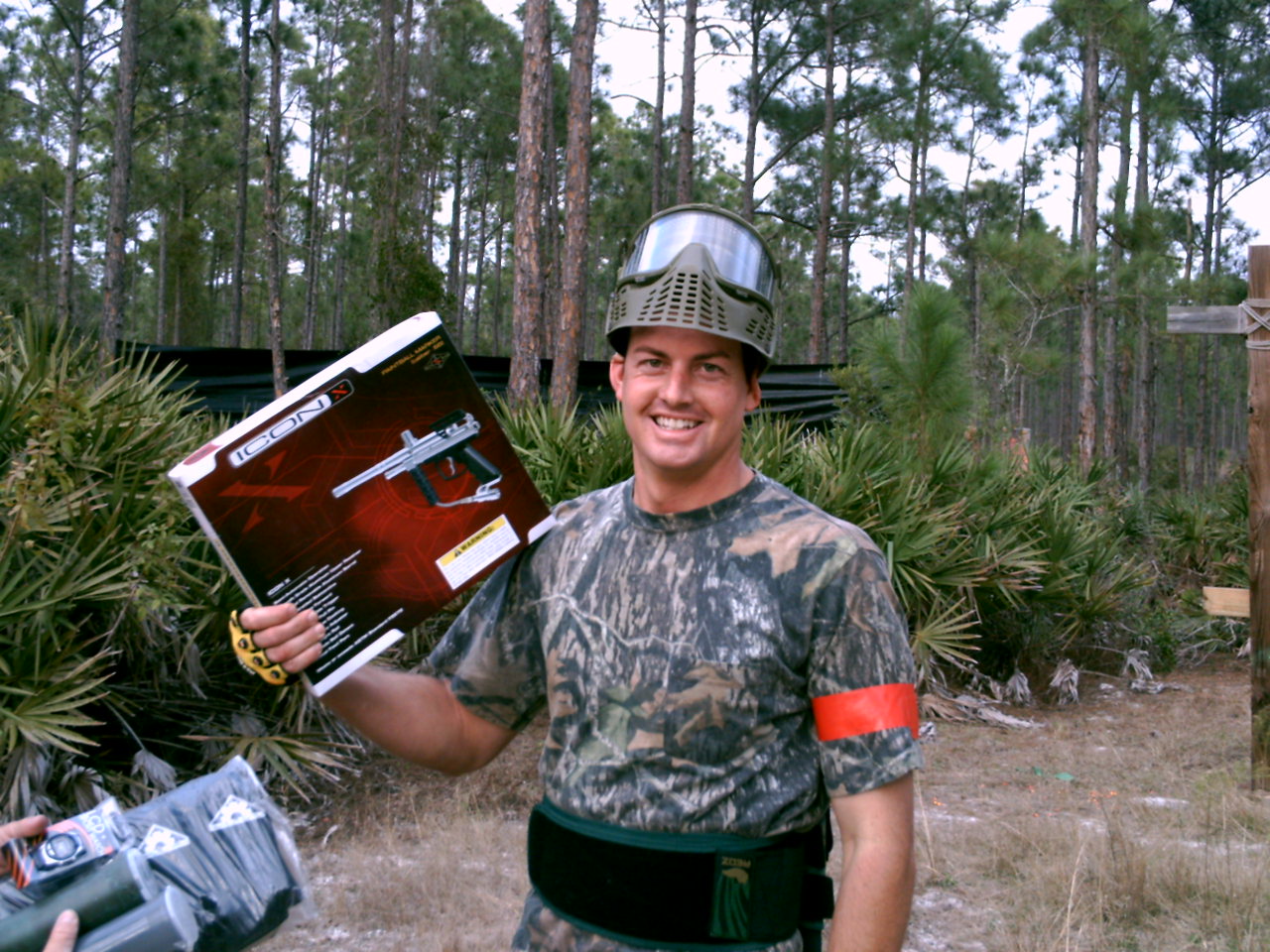 Chad Keech, The winner of the Newby Package,
Marker, pod pack, gloves and mask,
He won by being the best marksman
among the Field gun users.