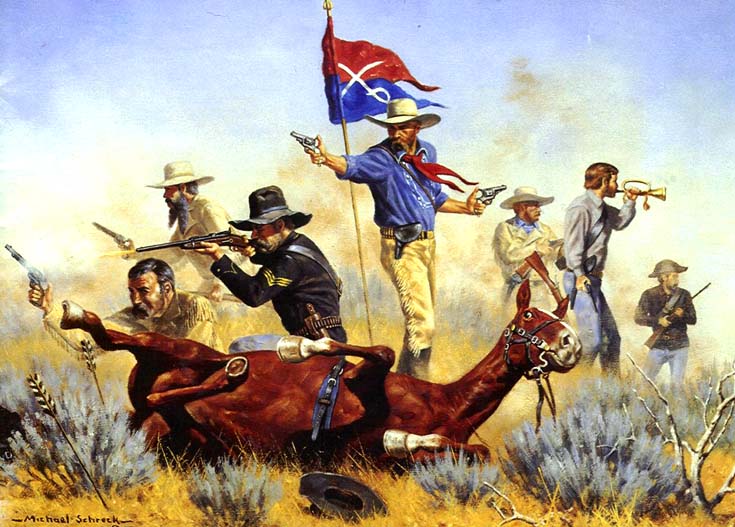 Custer's Last Stand
Was Held
Feb 5, 6, 7 2010
We used the three team format on Saturday.
Yellow was Sabotage, supplemented with walk ons for a total of about 21 players
Green was Lock On, supplemented with additional players for a total of approx 27 Players
Red was Trespassers, supplemented with additional players for a total of about 32 players.
The battle began with the two Indian groups dividing missions, one group would attack the fort, while the other would attack at the little big horn.
But after the third game, the gentleman's agreement broke down, this was due to an uneven scoring possibility for the two Indian tribes and desperation amongst a Trespasser team not familiar with losing.
By the fourth round of play it was clear that the Trespasser team, which was missing many of its core players and manned mainly by inexperienced recruits, found itself in last place and having no chance to win. So, under Bill Bone's leadership the Trespassers decided to attack which ever team was the current point leader. They were playing the role of kingmaker in the hope of extracting a cash bounty from one team or the other. By the eighth game, his plan failed due to the rotation of the starting positions, and the yellow team amassing such a huge lead that no team could catch them. Ending the tournament with 8 games played.
Prizes were awarded to the Yellow Team Sabotage. (7th Cavalry Bandanas)
An additional game was played to finish the daylight. Yellow again prevailed and they were awarded T-shirts.
Sunday's game was modified for just two large teams. Many of the players felt this change was an improvement, as there was no fear of devious alliances. Should we ever replay this scenario, we will run it as a two team event.
It became clear that by the second day most players had fully grasped the strategy needed and were no longer attacking the fort as a primary objective, but sending their Indian forces to dislodge Custer from the little big horn area in order to reduce the Cavalry teams point score. Then the Indians could use the remainder of the game time to surround the Fort and strangle it from all directions, at a pace they controlled.
Six games were played on Sunday in rapid succession so that players could bug out in time to catch their Super Bowl parties.
Team Lock On, played a nearly perfect final game, they drove Custer out of the Little Big Horn and back into the Fort so quickly, that the cavalry outer players did not realize that the fort was under threat until it was too late. A Green player stormed through the front door of the fort, eliminated 4 players, and swept up the flag in an amazing feat of speed and skill.
Prizes were awarded. Thanks to all who attended. We look forward to seeing you all again at at the Matrix Scenario March 5,6,7 2010