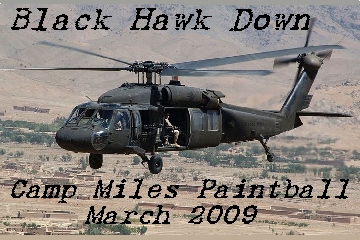 March 27,28,29 2009
This is a bring your own paint event!
We will have Paint, High Pressure Air and CO2
Available at reasonable prices.
As the world economies fall further into malaise, President Obama uses a tried and true method of focusing the public on an external enemy. "The Somali Pirates." He cites rising insurance rates on desperately needed American exports as the cause for leading a coalition of world forces to once and for all strip the horn of Africa of this menace.
The Somali's, proud of their long history of defying empire's campaigns, and spurred on by a rising Islamic militancy know that their pirate industry can be franchised world wide, if only they can survive this latest crusade.
This 2 day Scenario will feature a team of experts made up from the ranks of those already holding a World Forces pin. They will form the core of the American rescue team, as each game will begin with a downed Blackhawk helicopter containing two pilots in radio contact with the World Forces.
World Forces missions will be to rescue the pilots from a downed helicopter. Retrieve the ransom monies from the Somali Pirates, and destroy the helicopter in place to deprive the Somalis access to our advance technology.
The Somalis and their warlords will make up the larger force, and will defend their multi-colored pirate city. These brightly colored dwellings will cover over 2 acres with hallways, alleys and maze like rooms. Their warlord leader demands the capture of the pilots; and their imprisonment; keeping safe his ransom money , capturing the aircraft intact and eliminating World Forces Snipers who might have entered the field prior to the beginning of the game.
Additional Missions could be announced at any time.
The Night Game will feature retrieving Nuclear detonators armed with mercury switches,
(you'll need to be very careful !!!)
Prizes will be awarded for the night game, and on Sunday at the conclusion.
Questions?
Call Keith

239-980-9850

www.CampMilesPaintball.com